Puppies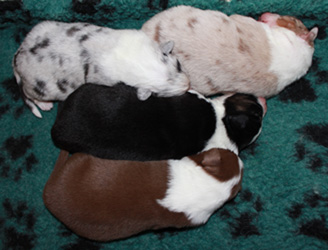 .
Litters are generally not listed on this page until they have arrived safely and are doing well. At that point, most if not all of the pups are often spoken for. The Aussie has become a popular breed and while it is possible to be 'in the right place at the right time', generally you need to plan ahead for your future puppy.
If you are interested in an AusFX puppy, please email me. Please include information about yourself, your family and your home, regarding the specific characteristics and activity level you are looking for in your Aussie so that we can find the best match for your lifestyle, as we endeavour to make sure that each puppy is matched appropriately to their new family.
Sometimes a placement does not work out. Sometimes life doesn't go according to plan, and AusFX will take any dog we have bred or owned back at any time, for any reason, regardless of the dog's age.
Please also see our Puppy FAQ page.
All of our future litters will be raised using Puppy Culture protocols, the benchmark in puppy raising, to provide an excellent start using foundation training techniques. A Puppy Culture puppy has the best possible start to its life and we encourage anyone who is serious about owning an Aussie (or any dog) to be familiar with and continue the protocols - it really does make a difference! Find out more here:
Like the 'AusFX Australian Shepherds' page on Facebook.
Current litter
AusFX Through the Fire N Flames RN PT ET x AusFX Sea Change CDX RE RAE TDX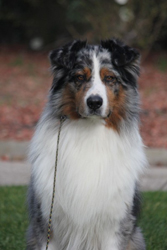 .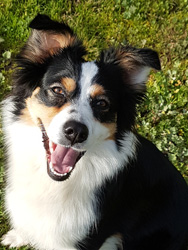 The pedigree can be viewed here.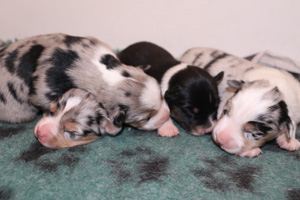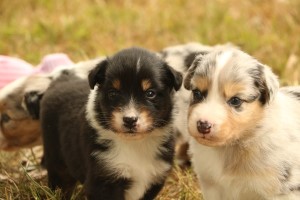 .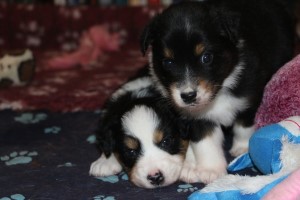 .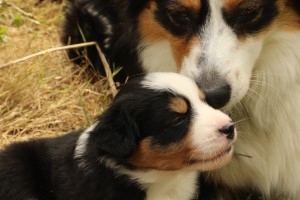 DOB: 12 January 2019. Pups are pictured at 8 weeks old.
All pups have gone to their new homes.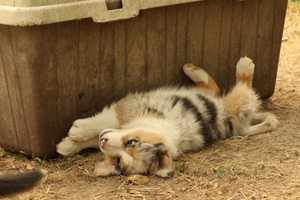 .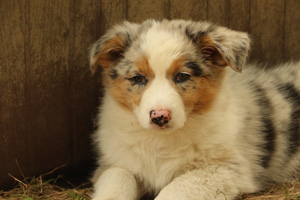 Blue merle female 'Darlie' - owned and loved by David and Karlie.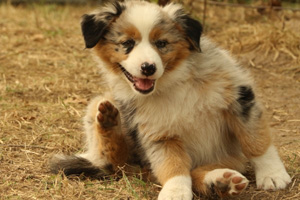 .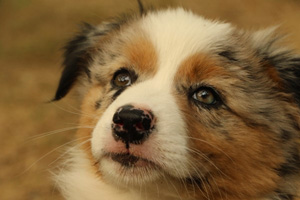 Blue merle female 'Iyah' - owned and loved by Glen, Jasmine and family.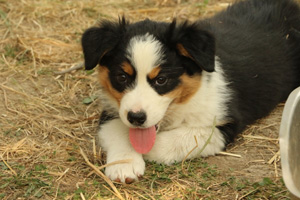 .
Black tri male 'Hook' - owned and loved by Paul, Sussi and Caitlin.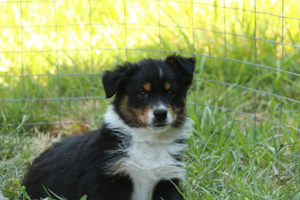 .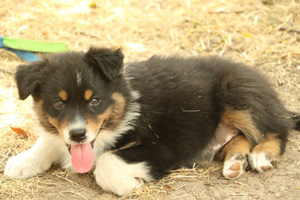 Black tri male 'Pax' - owned and loved by Jake and Sophie.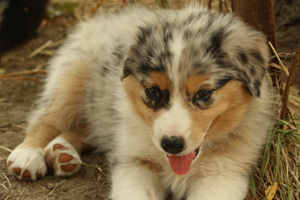 .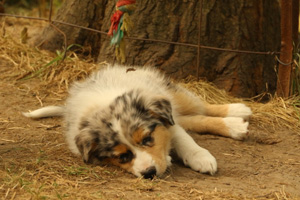 Blue merle male 'Barkly' - owned and loved by Alex and Emily.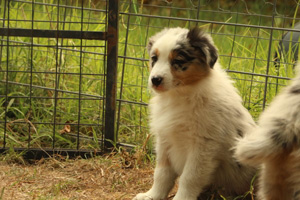 .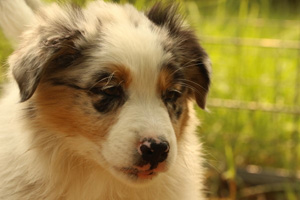 Blue merle male 'Arlo' - owned and loved by Kaare and Sophie.
Past litters
We are proud of every AusFX puppy. Please enjoy some of our memories from past litters.
Songs 1 - Brock x Promise (2011)
Tuff Guy Promises - Tuff x Promise (2012)
Guardian - Bobby x Promise (2013)
Deja Vu - Chips x Vixen (2015)
Change of Plan - Dude x Minute (2016)
Black - Chetz x Vixen (2016)
Inspiration - Winter x Minute (2017)
Peace - Mason x Peace (2017)
Days - Flynn x Vixen (2018)
The Greatest Showman - Winter x Moonpie (2018)
Check out the list of AusFX puppy names.