Aust Ch Silvanwood A New Force AD JD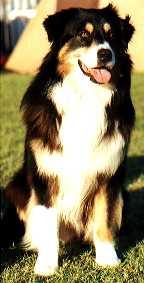 Murdoch
1 March, 1996 -16 June, 2009
Black male with copper & white
Hips: 1:4 Elbows: 0:0 Eyes: Clear August 2003.
Sire: Am / ASCA / Aust Ch CarolinaBayshore GrtBalzoFire (Imp USA) [owner Silvanwood Knls]
Dam: Am / Aust Ch Sequels Anu (Imp USA) [owner Silvanwood Knls]
Click here for Murdoch's pedigree.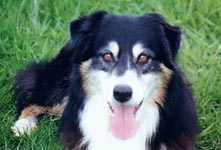 I happened to be at a show in September 1996 and saw 3 blue merles sitting in a row. I couldn't take my eyes off them and knew instantly that I had to have one. I went to see the Silvanwood gang, a group between the ages of 3mo and several years. I tried - successfully - to justify to myself why I needed another dog, and about two months later I took Murdoch on a trial basis to see whether he and Tor got along. He took a few months to settle in, and although I had originally wanted a blue merle bitch, I ended up keeping this 8 month old black tri dog.
Murdoch began showing in conformation after he turned two years old and finished his Aust Ch title before he was three, achieving some memorable wins in good competition along the way. Plainly marked, he achieved his results in the show ring due to his effortless, flowing movement.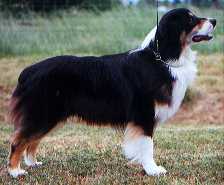 Towards the end of 2000 we started training in agility and he worked well in the first trials we entered. He was an easy dog to train and handle, being very eager to please. Murdoch obtained his novice agility and jumping titles in late 2002.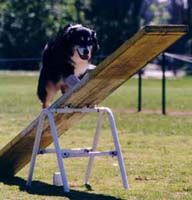 .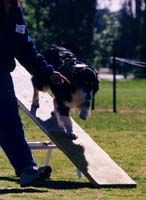 .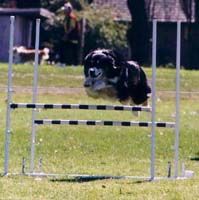 .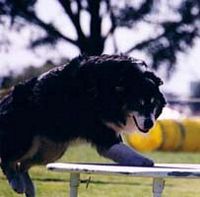 .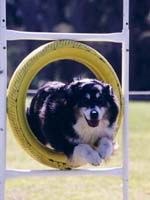 In mid 2005 Murdoch developed a perineal hernia and required major surgery. Because there were complications not discovered until the surgery commenced, he was on the table for nearly eight hours. It took him a while to recover but he still enjoyed quality of life even though the hernia returned in mid 2006. I chose not to put him through surgery again at that age. He did ok until 2009 but after losing his little crony Tor he went downhill fairly fast.
Photo Credits: 2nd: Leonora. All others: Kate Dourley.